Wells Auto and Truck Repair, Inspection Station & More
DRIVE to your heart's content with the peace-of-mind that your car has been serviced by the Sanna family at C&S Auto and Truck Repair, Inc. of Wells, Maine. Whether your car is new or vintage, we have the expertise to perform diagnostics and repair service and well as periodic maintenance of your automobile or truck at our service garage.
Need an oil change? Tires rotated? Maine State inspection sticker? Or other more involved repair such as engine head replacement? Please call or click here to email us for an appointment at our auto shop.
We have extensive training and experience with not only late-model cars and trucks, but also restoration work. Please see our SERVICES page for a listing of the work we do. Need something else? Ask us!
C&S Auto and Truck Repair inc is proud to be ongoing mechanics for the following company fleets:
Wells Police Department ~ United States Postal Service ~ Carl's Water Systems ~ Coastal Contractors ~ C&S Electric ~ NorthEast Specialty Foods ~ State of Maine (posted Jan, 2020)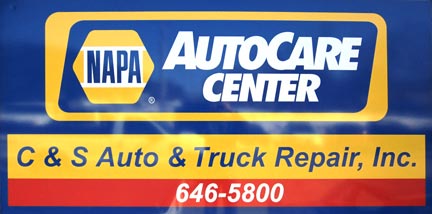 Read more information about our Napa AutoCare Certification.
C&S Auto and Truck Repair, Inc. is pleased to repair and service cars, automobiles and trucks in Wells, Ogunquit, Sanford, Kennebunk, Kennebunkport, Arundel, Waterboro and beyond. No repair is too large or complicated for ASE certified mechanic, Jeremy Sanna and shop owner, Doug Sanna. Please call us for an appointment at our repair facility and garage. We would be pleased to prepare a quote for the repair of your automobile, car, suv, or truck. We are conveniently located on Route 9 in Wells Maine, just minutes from the Maine Turnpike. We would love to be your auto mechanic. We care enough to provide a high level of service.